ODrive S1 Datasheet
Electromechanical Specifications
Electrical
Note
All specifications are in 0◦C ≤ TA≤ 40◦C unless otherwise noted.
Specification

Min.

Typ.

Max.

Units

Conditions and Notes

DC Voltage

12

16-48

50.5

V

AUX Logic Voltage

10

12

14

V

Optional

Operating Motor Current

No cooling

Heat spreader plate (TA 25°C)

Peak, see below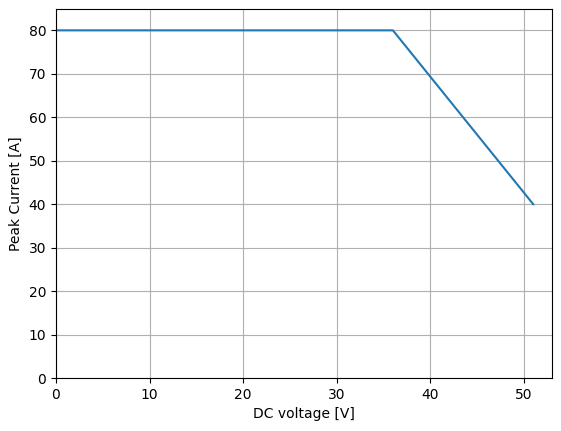 Environmental
| Specification | Value | Notes |
| --- | --- | --- |
| Humidity | Non-Condensing | |
| Ingress Protection | IP20 | with case |
Pinout
Power Pads
Important
DC+- cannot tolerate reversed polarity, verify all power pad connections before energizing.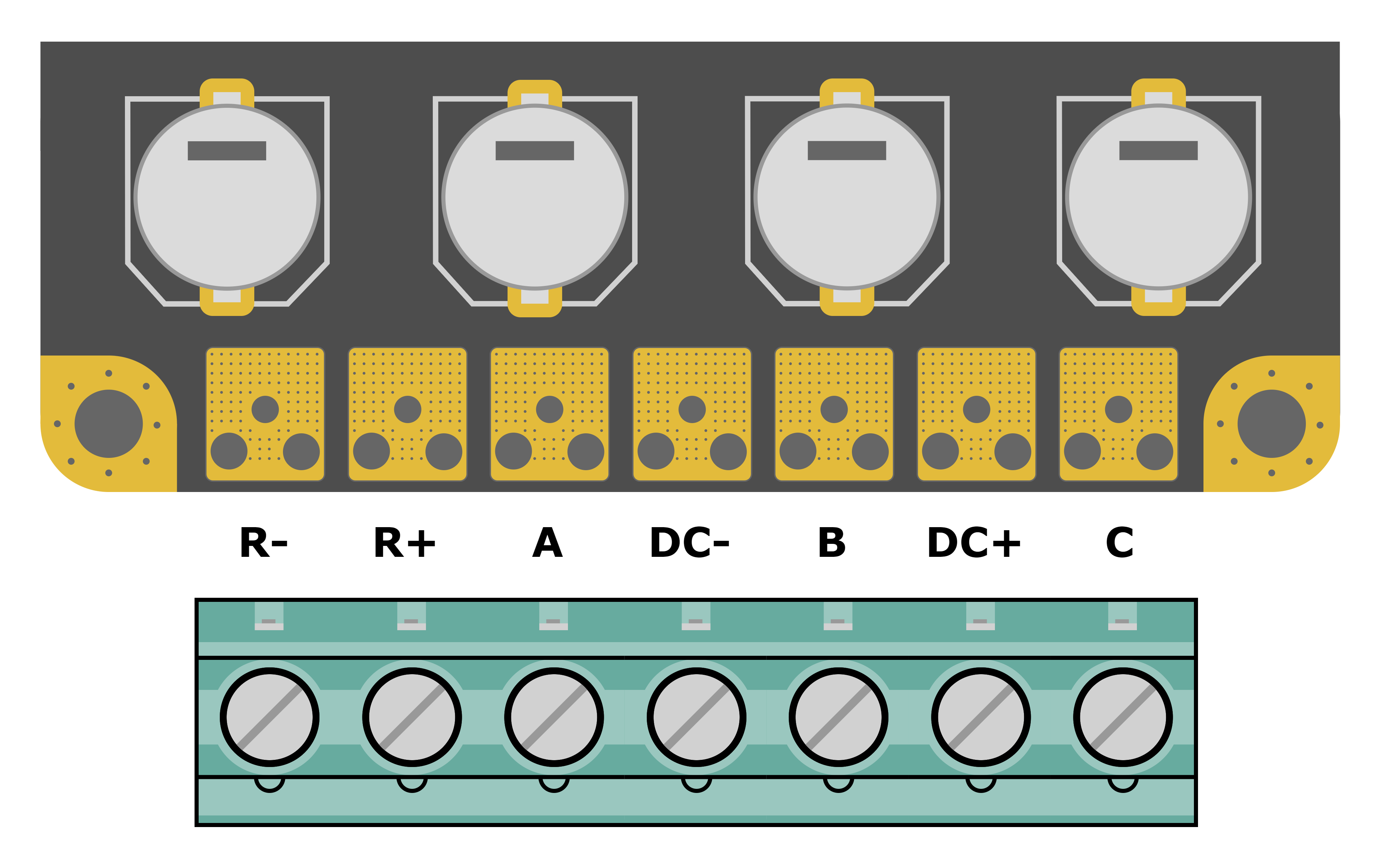 Note
The motor phase connections A/B/C can be connected in any order.
Logic Pins
Digital mode is a general purpose mode that can be used for these functions: step, dir, enable, encoder index, hall effect encoder, SPI encoder nCS.

All GPIO pins are 5V tolerant, except if you power the isolator with 3.3V, then ISOLATED IO inputs are rated to 3.3V nominal.

GPIO pins that can be configured by the user are enumerated with Gxx.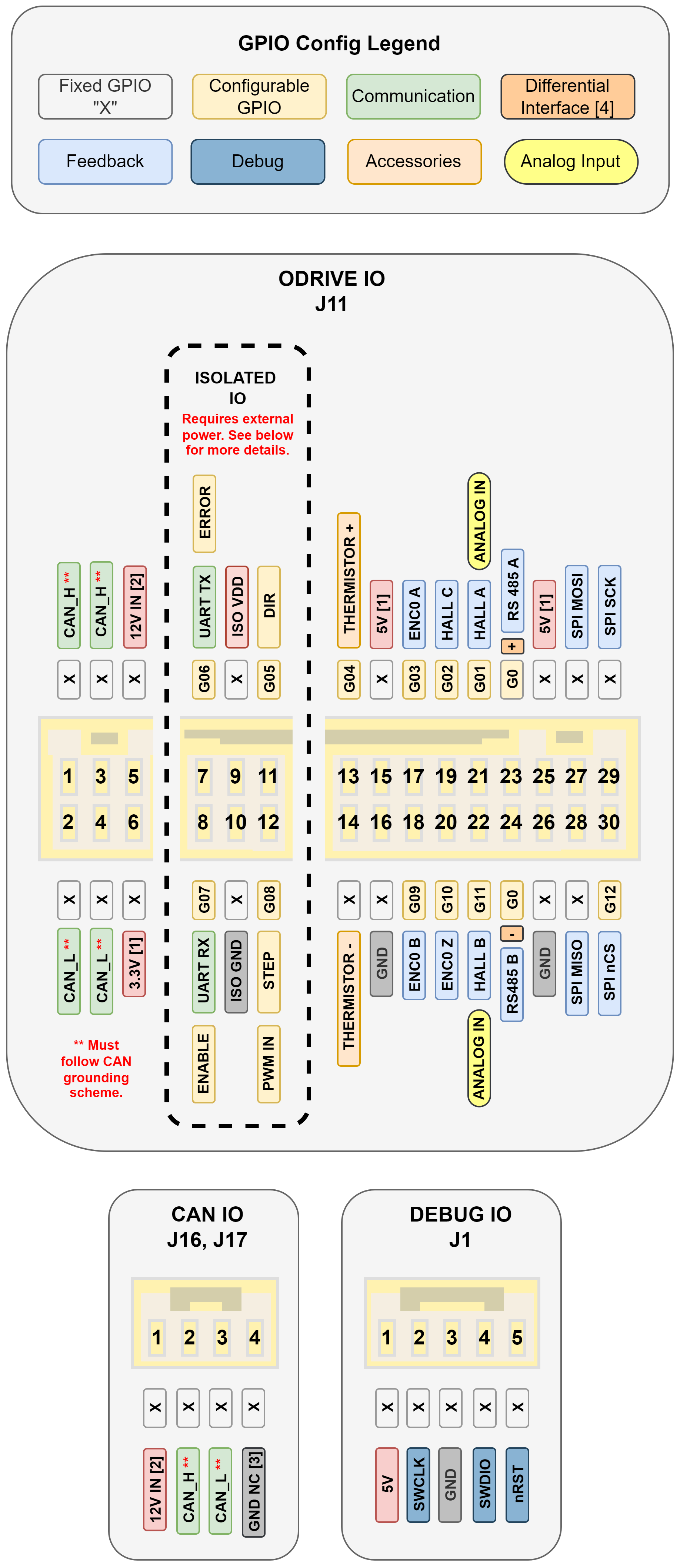 Notes
Note
The letter G and the zero padding are not used in odrivetool or the web GUI, i.e. G09 would be represented by only the number 9.
5V outputs: combined draw max 150mA

3.3V output: max draw 150mA

[1] 5V and 3.3V can be switched on and off internally. (feature coming soon!)

The RS485 and SPI feedback interfaces are mutually exclusive on S1.

THERMISTOR + has an integrated 1k ohm voltage divider.

[2] 12V in is optional and is used to power the ODrive logic, enabling communication before the main power supply is connected. Allowed voltage range: 10V-14V

[3] GNC NC offers a common connection for the CAN bus ground, it is not connected internally

[4] Differential interface used for RS-485 encoders.
User Facing Pins (Gxx)
Locations for all pins that can be configured using GpioMode.

Inputs:

G0-G03, G06, G09-G12

Outputs:

G0-G03, G05, G07-G11
Note
Inputs and outputs are not mutually exclusive.
ISOLATED IO (G05-G08)
GND ISO and V+ ISO must be connected to your other board.

V+ ISO is a power Input to the isolated interface, which you should power with 3.3V or 5V.

Input and output levels are 3.3V if you supply 3.3V, and are 5V if you supply 5V. Inputs are not 5V tolerant if you supply 3.3V.

UART: (TX)-Transmit data from ODrive, (RX)-Recieve data to ODrive.